We take care of you with or without insurance, and our care remains the same for everyone. If paying for services with insurance, we now accept the following insurance plans: Aetna, Cigna, Optum and United Healthcare (see detailed list here). If not paying with insurance, we've made sure our care is as affordable as possible with a low monthly fee.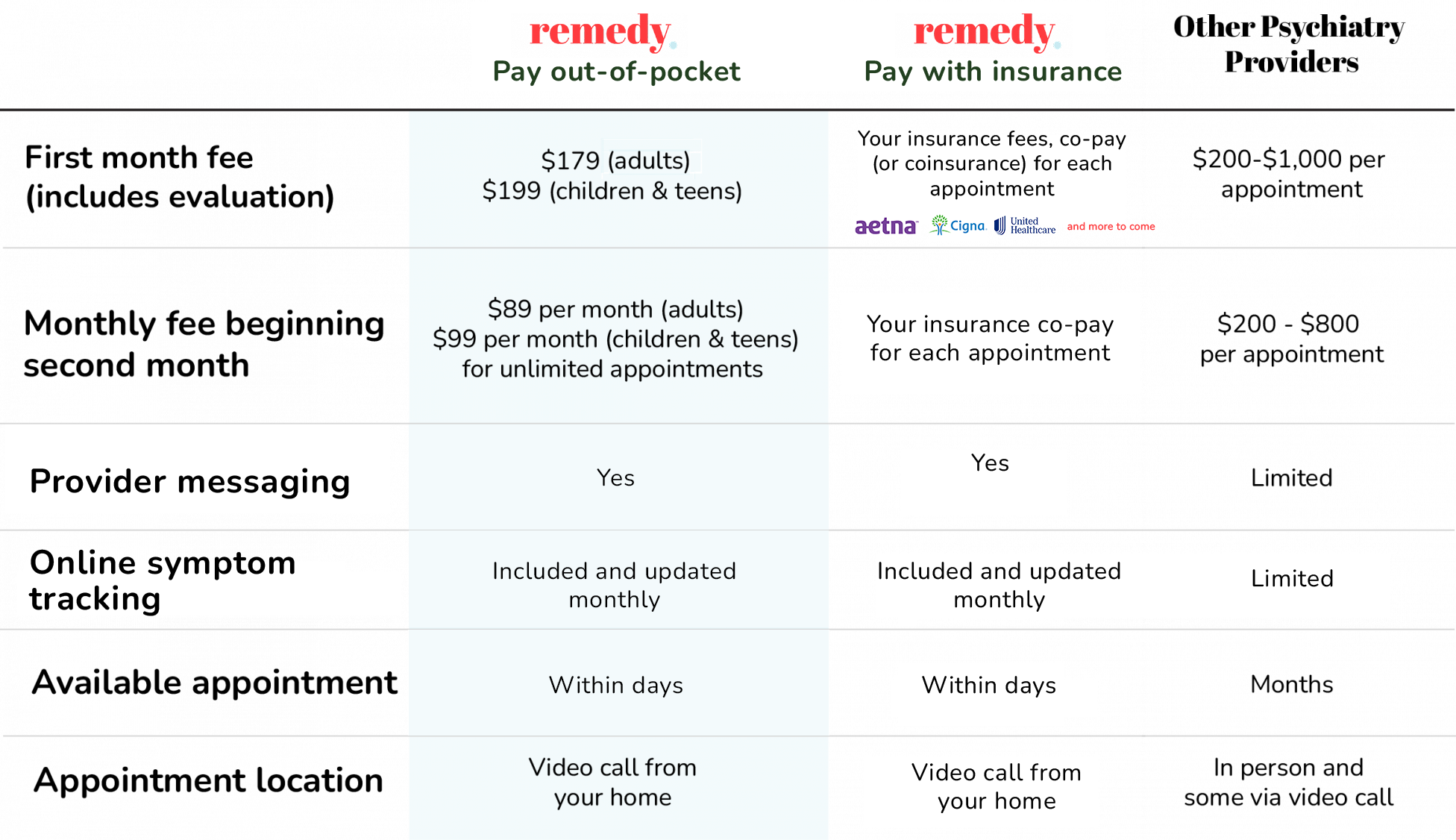 Our care includes: video appointments, provider messaging and symptom tracking. Cancel at any point. Follow-up appointments whenever you need. The cost of medication is not included, but can be covered by your insurance if you have it. If you do not have insurance, we can find low cost prescriptions at a pharmacy near you.
Book an Appointment

1.

Use your insurance

We are now in-network and accepting Aetna, Cigna, United Healthcare Insurance plans, in addition to multiple others. See complete list here. If using an in-network insurance carrier, the cost of service will be your co-pay for each video appointment with your Remedy provider. Remedy is currently considered an 'Out of Network' Provider for all other insurance carriers not listed here.  If you have insurance with another carrier, contact us at [email protected] and let us know that you would like to submit your Remedy receipts to your insurance company. Each insurance plan is different, but yours may reimburse you for some or all of the cost of your Remedy appointments. We'll send you a medical receipt (also called a 'super bill')  that you can submit to your insurer for possible subscription reimbursement. Patients need to attend at least one appointment within each month (billing cycle) for their insurer to review the claim and consider reimbursement.  Please note, Remedy's monthly fee for unlimited medication management care appointments can be less than the total cost of monthly insurance fees for mental health care.
2.

Pay with FSA/HSA

Please note that HSA/FSA plans vary. You may be able to use it for your copays, coinsurance, or your Remedy subscription if your insurance is out of network. Please check the details of yours. Some may only be applied to Remedy plans if you are doing the unlimited plan where you are paying for your monthly subscription out of pocket.
3.

Use your Wellness Stipend

Some companies have monthly stipends as part of employee wellbeing initiatives and you can dedicate those dollars to mental health (i.e. psychiatric care with us). Consult your company's health & wellness benefits program to see if you're eligible.